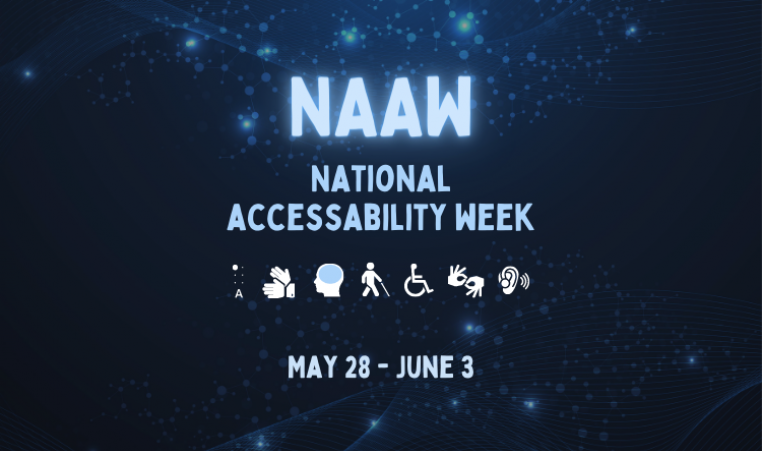 May 28, 2023
National AccessAbility Week (NAAW) takes place from May 28 to June 3, 2023. It is an opportunity to celebrate the leadership of people with disabilities/disabled persons, to support the work of organizations advocating for accessibility, and to reflect on how our communities can work to become more inclusive and accessible to all.
Celebrating NAAW is an integral part of YMCA Canada's commitment to Diversity, Equity, and Inclusion, as we seek to understand how we can better build spaces that are equitable and inclusive of all the communities we serve.
YMCA Canada recognizes that disability is multifold. It includes people who have disabilities related to neurodiversity, cognitive, developmental, intellectual, mental, physical, or sensory conditions, which are present from birth or acquired during a person's lifetime. In addition, we recognize that disabled people are diverse and their experiences are shaped by many dimensions including race, class, gender, language, and citizenship status. As we have learned from disability activists, accessibility involves removing physical, communication, and technological barriers. It also involves attitudinal and ideological change. Disability is not the problem; it is social structures that create barriers to accessibility.
Recognizing the role that language has played in perpetuating ableism, we use the terms persons with disabilities/disabled persons interchangeably, following the lead of people with lived experience of disability. We are also listening to those persons who may or may not describe themselves as disabled, but who face barriers to participation due to ableism, such as the deaf and autistic communities.
Taking our cue from disabled persons/persons with disabilities, we also recognize that it is crucial to move beyond an accommodation mind-set and towards creating communities that are inclusive of all. Our workplaces, programs, and communities should be built in ways that expect and accept disabled persons. 
For National AccessAbility Week 2023, YMCA Canada is delivering a series of educational events, which focus on increasing the knowledge of Canadians on accessibility and reducing attitudinal barriers towards persons with disabilities.
During NAAW and the rest of the year, we will continue to consider how we can increase our capacity for creating inclusive and accessible spaces.